Posted on Mon Nov 23 2020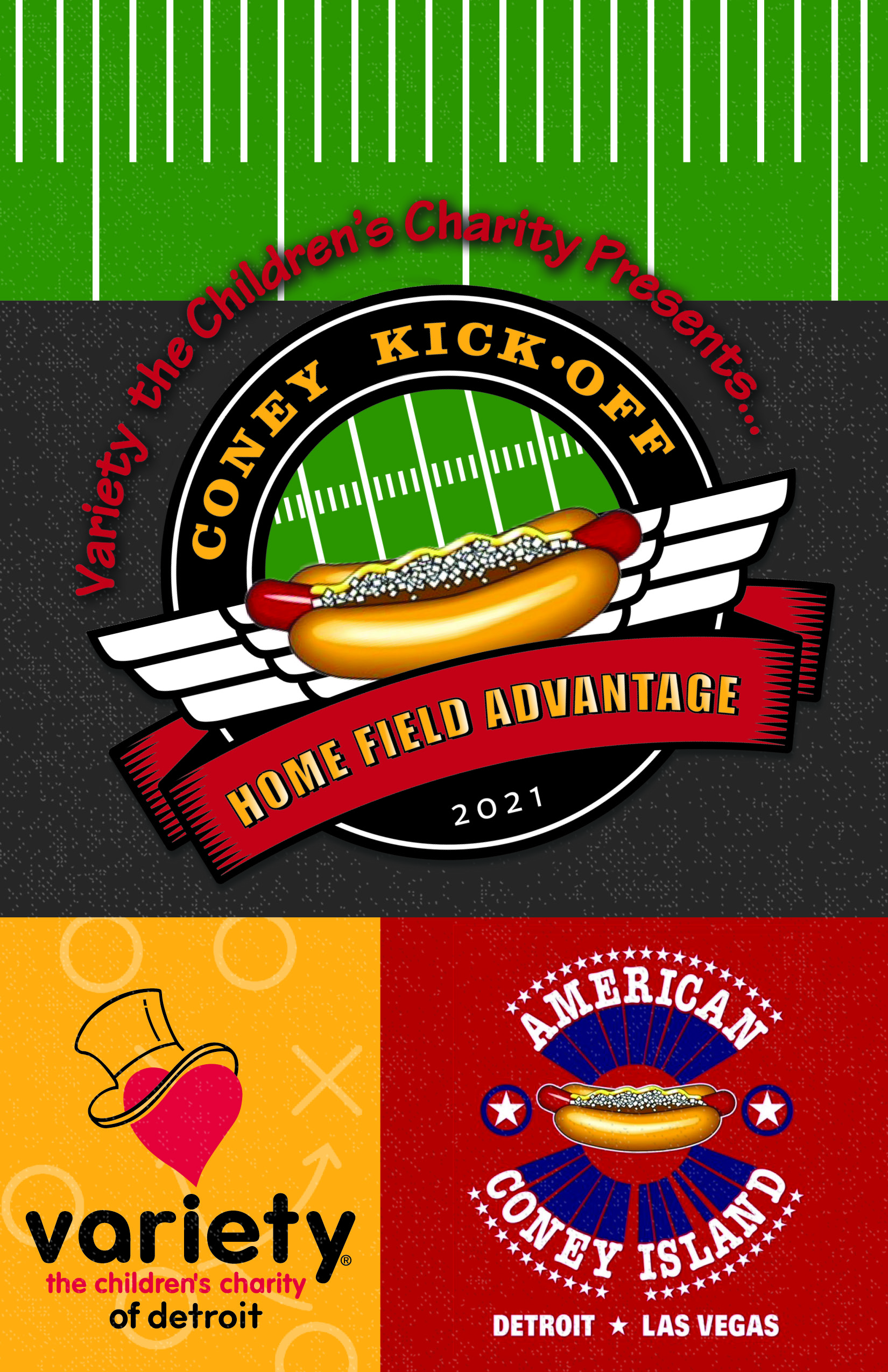 It is with great pleasure, as we continue to deliver swift support to children throughout the pandemic, that we invite you to support the newly reimagined Coney Kick-Off: Home Field Advantage—coming to your doorstep this February!
In partnership with American Coney Island, Variety's Coney Kick-Off will bring coneys and comfort to you ahead of football's biggest game on February 7, 2021. Variety supporters who participate will receive a famous American Coney Island Kit in time for their home Superbowl experience. Each kit contains coneys and fixings for twelve (12) and will be delivered to your door—bringing fun and big game taste with a classic coney that only Detroit can deliver!
Each Coney Kit contains: 12 Dearborn Sausage brand special recipe hotdogs, 12 buns, onion, and Keros family Detroit chili sauce. (a $100 contribution to Variety)
A special edition American Coney Island T-shirt will be included with the kit. (a $150 contribution to Variety)
Comfort crates will include snacks and goodies for game day. (included with sponsorship)
Kits will be shipped February 1st, 2021. (No orders accepted after January 29)
Co-Chairs: Jeffrey King and Aubrey Tobin

Sponsorship opportunities are available.

To reserve your sponsorship, or to support Variety and receive your coney kit, please call 248-258-5511 or email Info@VarietyDetroit.com
Sponsorship Opportunities

$10,000 Presenting Sponsor
Includes ten (10) American Coney Island kits, one comfort crate, sponsor recognition in every coney kit delivered, recognition on event invitation (press deadlines apply), recognition in media releases, digital recognition on website and social media
$7,500 Half-Time Sponsor
Includes eight (8) American Coney Island kits, one comfort crate, sponsor recognition in every coney kit delivered, recognition on event invitation (press deadlines apply), recognition in media releases, digital recognition on website and social media
$5,000 Post-Game Sponsor
Includes six (6) American Coney Island kits, one comfort crate, sponsor recognition in every coney kit delivered, recognition on event invitation (press deadlines apply), recognition in media releases, digital recognition on website and social media
$2,500 Touchdown Sponsor
Includes four (4) American Coney Island kits, one comfort crate, sponsor recognition in every coney kit delivered, recognition on event invitation (press deadlines apply), recognition in media releases, digital recognition on website and social media
$1,000 Field Goal Sponsor
Includes two (2) American Coney Island kits, one comfort crate, sponsor recognition in every coney kit delivered, recognition on event invitation (press deadlines apply), recognition in media releases, digital recognition on website and social media